Our team have been creating Brand Books for years but just recently, more than ever, there has been an influx of requests. Perhaps the past few months have given many companies the chance to pause and consider brand assets, their current direction and if what they are demonstrating externally to customers, (via all marketing touchpoints) is actually matching what they internally believe about themselves.
However, articulating the importance of this precious book can be difficult to those in the company who hold the purse strings and might not adequately understand the benefits of 'brand' (let's face it...we know some of you roll your eyes at the mere mention of the word - the same way that us brand people might do at the mention of 'spreadsheets'!).
To help the believers and non-believers I have put together some useful information in a non-fluff overview to demonstrate the commercial importance of this incredibly important business asset, and have used samples from not only the big name companies but those closer to home, and with the colloborations of talented designers, we have had the pleasure to bring these books to life.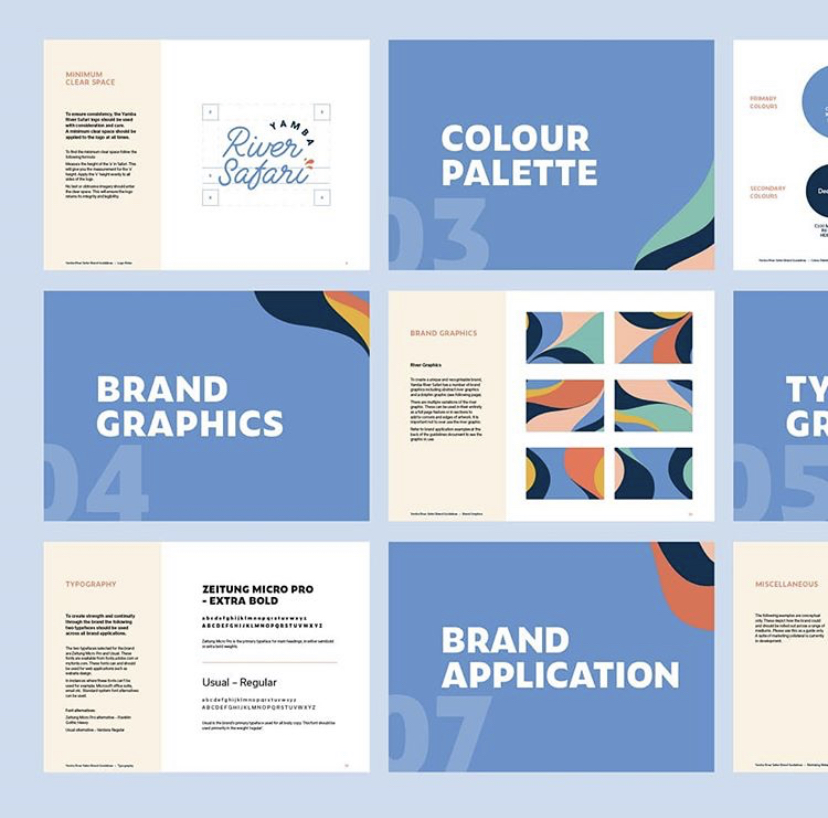 SO, WHAT IS IT?
A Brand Book (or Style Guide) is essential if you wish to protect, create consistency and build brand equity for your business, company, product or service.
Think of it as an essential tool and asset for establishing the entire purpose and visual direction of your business in one key document that can be shared to help anyone associated with your brand, communicate a consistent message to your audience.
SMALL BUSINESS PITFALLS
One common mistake made by many small businesses and start-ups is to assume that once they have a great logo, they've created their brand and now just need to do a little bit of marketing.
A brand is more than its logo. All the money put into marketing collateral can easily lose value and credibility if not done correctly. Keeping a keen eye on your branding is so important. For example, if it is inconsistent or consistently poor in email, web or content marketing campaigns, believe me, people will notice.
It's not enough to create a brand identity – you must also consistently leverage it to build a strong brand and a powerful brand image.
Consistent, strategic branding allows your business to grow strong brand equity.
Having brand equity means that customers interpret your brand as having a higher value and for a business owner, yes you, that means higher returns.
What can a Brand Book do for your business?
Your Brand Book communicates your company's design standards
to your whole group. Having this document to reference for expected standards will make the lives of your designers, writers, and developers much easier and give them a solid framework to use as a starting point for their work.
How do I communicate the commercial value of a Brand Book to investors who don't understand 'brand'?
Referencing a Brand Book ensures that content distinguishes a brand from its competitors, and remains cohesive. This cohesion is important because it helps establish a strong brand voice that resonates with the audience, which is essential for building brand awareness. Over time, that awareness and consistency builds trust.
A Brand Book creates brand equity, meaning that if you have invested in the 'Brand' you will derive commercial value simply by owning the brand name, identity and design assets. Over a period of time this will produce a much higher return for investment opportunities, when compared with other businesses without an unknown brand, especially when/if the time comes to merge or sell the business.
Brand consistency = Brand awareness = Consumer trust = Increased purchases = $$$
Brand Book Benefits
Large companies with teams in different locations across the globe can benefit hugely from making their Brand book available online.
During COVID-19, with so many of our teams and clients working from home, this can be incredibly useful.
Franchise models work better due to each individual owner/operator utilising the same Brand book consistently as part of their daily operations.
Employees
It's likely that at one point or another, you will have more than one person creating content for your brand.
You will hire new people, your teams will grow and change, and everyone will need to know the 'rules for your brand'.
"Branding style guides are helpful whether you are a small company with only one designer, or are well over 100 employees. They ensure that every visual element produced by or about your company is consistent, so a new hire doesn't decide to take their own creative spin on your brand." Melanie Chandler
Contractors and Vendors
External contractors need to quickly be able to pick up on the correct tone and language for your brand, too, and a Brand Book allows them to do that. It also saves them the time (which as everyone knows = money) trying to track down this information from other sources.
Management
Managers and editors benefit from a solid Brand Book, too.
The less time they have to spend making edits to their employees' work, the better.
Removing uncertainty from a brand discussion ("The logo's background colour is cerulean blue!" "No, it's deep sky blue!") saves time and reduces frustration. Having a definitive guideline to refer to allows everyone to feel confident that they're staying on-brand.
Customers and Prospects
Making sure that you define the visual experience throughout all of your communications will lead to better customer interaction with your brand.
Having a Brand Book ensures that you avoid inconsistent messaging, which is confusing and isolating to your audience.
SO WHAT'S IN THIS COOL LITTLE BOOK PROMISING BIG THINGS?
This will depend on the organisation, size and style of the business and nature of products and/or services it produces. However, to give you a guide these are the six basic items that should be in your brand book, and it can be expanded upon beyond these.
1. Brand Identity
Who is your brand? What does it stand for? What are your goals and vision for your company?
These are all important things to define early, as they will serve as the guidepost for the overall flavour you want your brand to incorporate.
Samples below from Red Cross and closer to home for Boudoir Lounge, created in conjunction with www.thomas&co.com
2. Logo
Your logo is the most essential element in your guide and an important element in brand identity design.
A logo represents the aesthetic of your company's brand identity, is the first thing people notice, and the piece that they remember later. A logo should be consistent everywhere it's used.
General rules for the logo include specifications about the size, placement, how much negative space is around it, and the places your company considers appropriate usage.
We have selected NASA as an example today as slightly obsessed with the new Netflix show Away and Boudoir Lounge.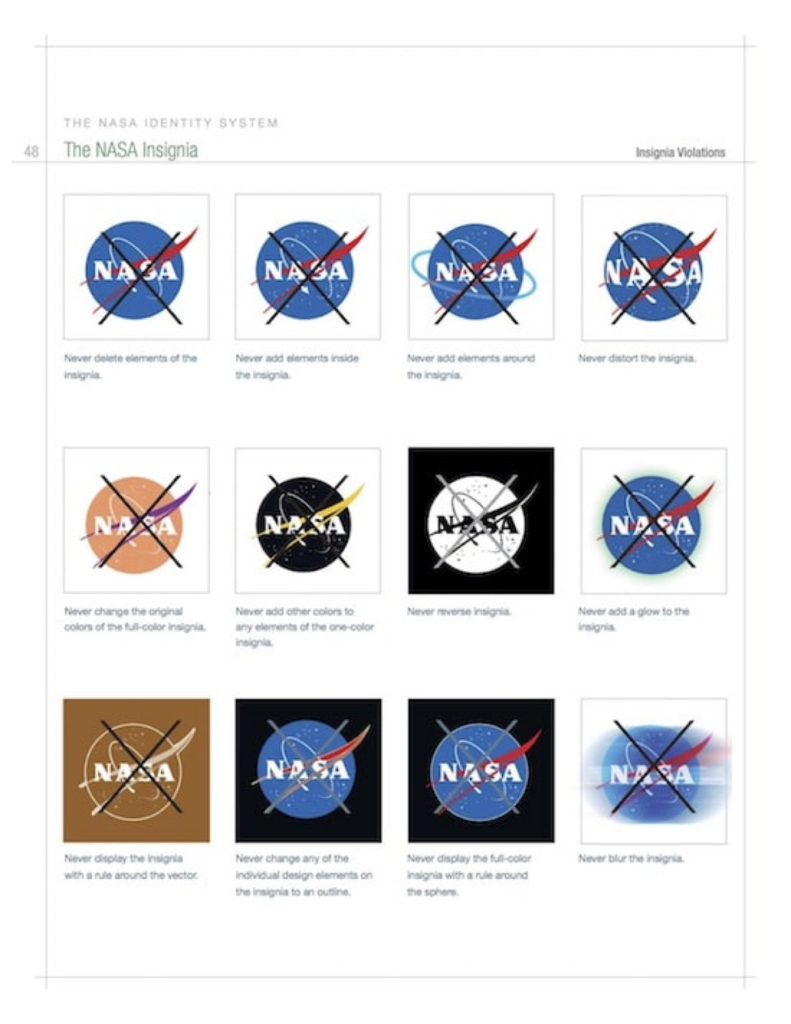 Courtesy of work in conjunction with Thomas&Co
3. Colour Palette
Colour is a powerful part of your brand identity (says the girl whose business is called Finding Yellow!!)
To make sure your brand identity colours aren't subjected to an over-zealous designer's pastel or glow effect, your style guide should have a detailed colour palette.
The Brand Book should clearly show what colours are permitted, where certain colours should (and shouldn't) be used, and what colours should be avoided.
This should include specific colour values (RGB, CMYK, and even Pantone) to remove uncertainty when creating collateral for the web, print, and other media.
Courtesy of work in conjunction with the team at 4040creative.com.au and microskin.com.au
4. Typography
Your typeface and font are important elements of your brand identity design, as are the rules that you assign to them.
Headers, quotes, copy and any fine print all need the right colour choice, sizing, and style, with font choice of critical importance.
(Tip - be careful getting into a conversation with designers about fonts! You will be there all day; its VERY real and very personal.)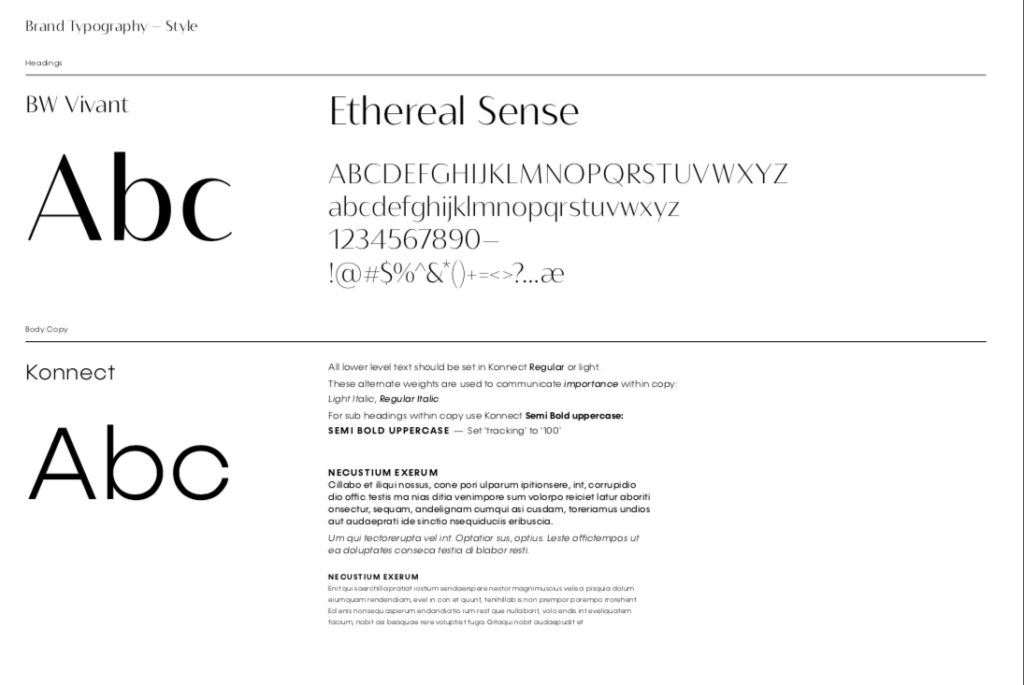 5. Images
Your Brand Book should include image guidelines: what's allowed, what's not, and when a specific image should be used.
You can even include instructions on where images should be sourced from, and if you have a particular aesthetic, what form it takes.
Some companies prefer images with people in them, others standardise on sweeping landscapes and vistas.
Whatever you've decided for your business should be spelled out in your guide so that your brand identity is consistent and strong.
@waterscape was created in conjunction with Iain McGregor and @DamienBredburg and http://boudoirlounge.com.au in in conjunction with http://tomasco.com.au@Tomas&Co
6. Voice
Brand Books aren't just for visual elements.
How your company 'speaks' through the written word and style says a lot about you. Spending time to get this right at the beginning can help define your brand's personality and can have a profound effect on how your customers interact with you.
Putting it together with marketing assets
This is how it all starts to come to life and your brand becomes a connector with a wider audience; they begin to really 'know' you and what you stand for simply by the way you consistently communicate.
The below was created by us in conjunction with Iain McGregor and Bournemouth Tourism
Don't be afraid to get creative with digital content; your brand guidelines can also be brought to life via videos or e-books to give customers a further insight into your brand's personality, the journey you've been on and aspirations for the future.
People will always love you more when they feel they have been a part of or at least understand your journey.
Below is one of my favourites from Cisco:
Another sample a little closer to home - from the re-brand of Trinity Lutheran College over ten years ago. Whilst the styling may not be as edgy today, the values still ring loud and clear:
Enjoy and don't forget to contact [email protected] if you would like us to help you bring your own brand to life!